2017 Scholarship Winners
Jade Kiszewski
Johnelle Jameson
2017 Community Awards Recipients
Hon. Kenneth Case – Jurist of the Year
Acea Mosey – Attorney of the Year
Christopher Belling – Civil Servant of the Year
Thomas Barton, Esq. – Profile in Courage Award
David Capretto- Good Samaritan Award
2016 Scholarship Winnders
JennaLea Dubil
Hanna Labadz
2016 Community Organization Grant Recipients
Erie County Sheriffs Explorer's Post #505
Erie County Sheriffs Mounted Division
Wings Flight of Hope
2015 Award Winners
Jurist of the Year - Hon. Sheila A. DiTullio, Erie County Court
Law Enforcement Officers of the Year - Erie County Sheriff's Department Detective Jon Hanna and Deputy Brad Ballantyne; (for their actions in the Brown Hill Road shooting)
Citizen of the Year - Edward "Ed" Brunner (for his actions in saving the life of a motorist on I-90 West in Cheektowaga when the vehicle burst into flames)
2015 Scholarship Winners
Jeffrey Davis
Attends Bryant & Stratton College
Graduating in May, 2015
Majoring in Criminal Justice
Currently interning in Buffalo City Court and is an active member in the Psychology Club.  He volunteers in his church community on Broadway Avenue by helping to feed and clothe those in need.
Kelsi Ebert
Freshman at Hilbert College with a 3.68 GPA
Graduating in May, 2018
Majoring in Criminal Justice
Future Detective
Has received the Presidential Scholarship and graduated from Frontier High School with 94% as her GPA ranking her 103 out of 420 students.  She is continuing her basketball career at Hilbert and works part-time at Wendy's.  She hopes to continue in her education to eventually obtain her Master's Degree in Criminal Justice.
Jessica Ortiz
Attends Bryant & Stratton College
Graduating in December, 2015
Future Probation Officer
She's a member of the Criminal Justice Club on campus and maintains a 4.0 GPA.  She hopes to get into the National Technical Honor Society, obtain her Bachelor's Degree and help to pave the way for her daughter to also, one day, achieve her goals.
Richard M. Priester, III
Attends Niagara University
Graduating in December, 2015
Future Attorney
He is an active member of the Pre-Law Society and continues to make the Dean's List while at Niagara University.  He works as a student aid in the Student Account office and also has a summer job at 7-11.
Morgan Sajdak
Attends Hilbert College
Graduating in May, 2018
Future Police Officer or US Marshall
She graduated from high school with college credits from the Kenton Career and Technical Center's Criminal Justice Program after an internship at the North Tonawanda Police Department.  She has a 3.58 GPA and is on the Honors List (Dean's List) for her academic success.  She also works part-time at the Boys and Girls Club in the City of Tonawanda and is a volunteer cheerleading coach.
2014 Award Winners
Jurist of the Year - Hon. Frank Caruso
A native of the City of Tonawanda, Frank graduated from Tonawanda High School, Buffalo State College and the University of Dayton School of Law. Until his 2007 Gubernatorial appointment to the Supreme Court, he also had his own general law practice in the Town of Tonawanda.
In 1995 Frank was elected in the Town of Tonawanda as Town Justice and re-elected in 1999 and 2003 with the endorsements of every political party. In June of 2001, Frank was the first Town Justice to be appointed as Acting Buffalo City Court Judge and continued to serve in that capacity until the end of 2006 when he was appointed to the New York State Supreme Court to fill the vacancy left by Justice Eugene Pigott. He was then elected in 2007 to serve a full term with the endorsement of every political party.
His numerous legal affiliations include member and past president of the Tonawandas' Bar Association, Member Erie County, New York State and American Bar Associations, Western New York Trial Lawyers Association, Erie County and New York State Magistrates Associations and the Judges and Police Conference of Erie County. Frank also served as Deputy City Attorney and City Prosecutor for the City of Tonawanda. He is a former member of the Law Guardian Panel of the New York State Supreme Court and Erie County Family Court.
Frank is married to the former Paula Tomasulo and they live in Wheatfield with their sons Joseph and Michael.
Law Enforcement Officers of the Year - K-9 Officer Cody & Officer Anthony S. Bartucca
K-9 "CODY"
" K-9 "Cody" is a nine year old German Sheppard who is both Nationally and NYS Certified in Advanced K-9 Narcotics Detection. He has been in service for seven years and has performed countless drug raids, over 50 drug searches at public and private schools; over 75 police K-9 demonstrations for schools, community events, police and fire fighter events, Boy Scout and Girls Scouts and other youth programs. K-9 "Cody" has assisted with the successful location of missing children on two occasions and has assisted with the successful location of a missing elderly individual with Alzheimer's Disease. In April 2013, he was featured in a Hollywood motion picture, "King's Faith" as a Police K-9 with his handler, Officer Anthony Bartucca. K-9 "Cody" is the Father of K-9 "Rocco" who is a three year old German Sheppard/ Malinois. K-9 "Rocco" is also Nationally and NYS Certified in Advanced Narcotics Detection. Both K-9 "Cody" and K-9 "Rocco" graduated first from the K-9 Academy.
Officer Anthony S. Bartucca
Officer Bartucca is a proud veteran of the United States Army serving during Desert Shield and Desert Storm. He is the fourth generation of his family to have served in the Armed Forces. He then served as a US Army Combat Engineer until he transferred to the US Military Police where he served for eight years. After his military serve, Officer Bartucca became a Federal Police Officer working for the US Department of Veteran Affairs Police. He also served as a Sergeant with the New York State Peace Officer Academy. Officer Bartucca has been serving as a local police officer for 23 years and in 2007, he joined the K-9 Division. He is in the Police Honor Guard and attends funerals for fallen police officers across New York State.

During his career as a police officer, he received the US Congressional Order of Merit for Law Enforcement; 38 Letters of Commendation from all levels of law enforcement; 17 Certificates of Merit; 14 Letters of Appreciation from various law enforcement agencies and communities; 2 Community Service Awards; 3 Volunteer Service Awards; 2 Meritorious Awards; 4 Life Saving Awards and 4 Military Awards. Officer Bartucca has received significant advanced training in over 60 Law Enforcement and Military Schools such as Hostage and Advanced Hostage Rescue School; Diplomat and Executive Protection School and Advanced Diplomat and Executive Protection School; Patrol Rifle and Advanced Patrol Rifle School (SWAT Training) as well as New York State Certifications in Water Rescue, Cold Water Rescue, Ice Rescue, Cliff Rescue; Confined Space Rescue, and Scuba Diver and Rescue. He has 2 NYS Certificates in Advanced K-9 Narcotics Detection and has 2 NYS Certified Advanced Narcotic dogs in service that are father and son.

Public Service Award of Excellence - Christopher L. Jacobs, Erie County Clerk
Citizens of the Year - Ken & Kim Hansen and the Amanda Hansen Foundation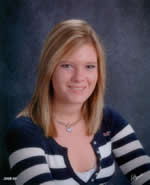 Amanda Hansen was a fun loving -16-year-old who loved fashion, school and most of all, her friends. On January 16th, 2009 Amanda decided to sleep over at a friend's house. This sleepover turned into every parent's nightmare. At 8:30 the next morning, we received a phone call informing us that our daughter was sick. When we arrived at the home of the sleepover, we pulled up behind an ambulance. Amanda was in that ambulance, and paramedics were performing CPR. Despite their best efforts, CPR was unsuccessful. Amanda had suffered from carbon monoxide poisoning, and they were unable to save her.Amanda was our only child and this tragic event has changed our lives forever. In an effort to ensure this preventable tragedy will not happen to someone else's child, we have formed The Amanda Hansen Foundation. The mission of the foundation is to spread awareness of the dangers of this silent odorless killer, carbon monoxide, and to make sure that every home in America is equipped with a carbon monoxide detector.Amanda's Law was passed in record time in New York State. The law mandates that every home is required to have a carbon monoxide detector installed. It is the goal of the Amanda Hansen Foundation to pursue legislation at the Federal level.
2014 Scholarship Winners
Ms. Maria Vazquez
Ms. Maria Vazquez lives in Buffalo and is attending Bryant and Stratton College and is expecting to graduate in 2016 and would like to continue her education and become an attorney specializing in protecting the rights of victims of domestic violence. A single mother whom, herself is a victim of domestic violence, Maria received a 4.00 Academic Achievement Award for the grades she obtained in the fall of 2013. Maria is also the first person in her family to attend college.
Mr. Kyle T. Brandel
Mr. Kyle T. Brandel lives in Kenmore and is currently attending Hilbert College where he maintains a 3.68 GPA and is expected to graduate with a Bachelor of Science degree in Criminal Justice in May of this year. Kyle has worked with the Town of Tonawanda Police Department through their Police Explorer Program and was promoted to Sergeant of his post. Kyle has also volunteered for three (3) years with the Juvenile Court in the Town of Tonawanda. Currently Kyle has received conditional offers of employment with both US Border Patrol and US Customs and Border Protection.
Lukas R. Cetkovic
Mr. Lukas R. Cetkovic lives in West Seneca and currently attends Hilbert College pursuing a Bachelor's Degree in Criminal Justice with an expected graduation date of May, 2016. Lukas has received the Highest Academic Achievement Award for his 1st two (2) semesters and currently maintains a cumulative 3.95 GPA. He is participating in the Peer Leader Program which is designed to help incoming freshmen students to succeed in college. Lukas is awaiting the results of the civil service tests for local police agencies and that of the Sheriff's Department. Lukas is considering a career with either Federal Border Patrol of that of a game warden.